Buy From Amazon
The Samaritan's Pistol at Amazon
Buy From Barnes & Noble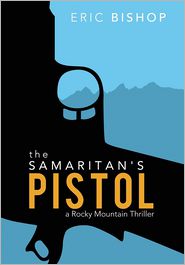 The Samaritan's Pistol at Barnes & Noble
.
"Fast-paced and as big as the land it rides through . . . filled with
rugged characters who resonate with the sounds and feeling of the
true West. A remarkable debut novel . . ."—Andrew Smith, author,
The Marbury Lens, Ghost Medicine, Winger, and Stick.
"The Samaritan's Pistol is a taut thriller, melding Mormons and the Mafia in an action-packed tale … Bishop's debut novel will keep the reader guessing to the end."— Michael Zimmer, recipient of the Spur Award from the Western Writers of America, author of City of Rocks.
"An engaging blend of character study, intrigue, and violent action, Bishop's novel is a well-told page turner…"— Rod Miller, multiple Spur Award winner, Western Writers of America's membership chair, and author of Go West and Cold As The Clay.